EMSCULPT NEO is based on an applicator simultaneously emitting  synchronized RF and HIFEM+ energies.
Due to the radiofrequency heating, the muscle temperature quickly raises by several degrees. This prepares muscles for exposure to stress, similar to what a warm up activity does before any workout. In less than 4 minutes, the temperature in subcutaneous fat reaches levels that cause apoptosis, i.e. fat cells are permanently damaged and slowly removed from the body. Clinical studies showed on average a 30% reduction in subcutaneous fat.*
Bypassing the brain limitations, HIFEM+ energy contracts the muscle fibers in the area at intensities that are not achievable during voluntary workout. Extreme stress forces the muscle to adapt resulting in an increase in the number and growth of muscle fibers and cells. Clinical studies* showed on average a 25% growth in muscle volume.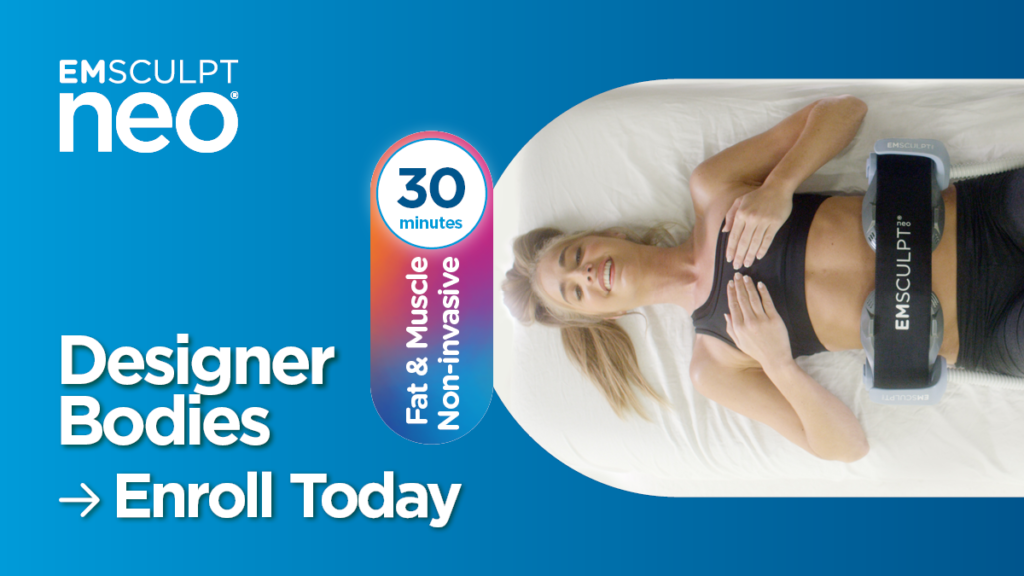 Workout Smarter Not Harder
Non-essential fat provides greater resistance to athletic motion thereby forcing one to increase the muscle force of contractions per given workout. This takes time, energy and a lot of patience, unless one discovers EMSCULPT NEO.
Cherry is a point of sale financing company that offers our patients the ability to get our goods/services now and pay over time through equal monthly payments. You can learn more by visiting Cherry's website.
Patients can get approved with Cherry in under 30 seconds and complete a purchase in a fast and painless way.
3 Reasons Why You'll Love Cherry
1. Cherry qualifies patients for up to $10,000.00
2. There is no hard credit check
3. Cherry offers zero percent financing options*
*0% APR is subject to approval. Regular APR 9.99% – 35.99%. Down payment may be required.